Why Mobile SOS apps aren't so effective in India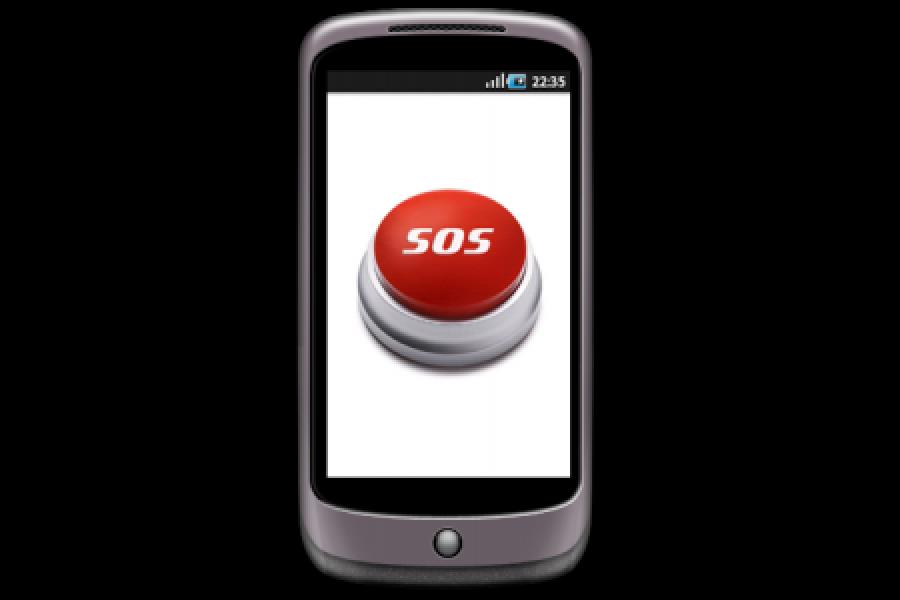 Among the several if-only analysis that takes place in the minds of people hearing about yet another victim of rape and violence is the one that involves a savior arriving just in time, alerted by a Mobile SOS. In fact there are quite a few apps in the market.
The impact of such apps can be huge. A similar app in US, Circle of 6, tags itself as a free app that prevents violence before it happens. (Yes, the last three words are redundant, but you can't overstate the case.) It also won a couple of awards, including one from Whitehouse in the US. But, in India, these apps are constrained by how accurately telcos can locate you. Economic Times, (in a report that confirms India will soon have a single number for emergency, like 911 in the US) has this revealing paragraph
In May 2011, at the behest of security agencies, the Centre had unveiled new rules mandating telcos to install within 12 months, advanced tracking devices on every cell tower in the country to pinpoint the location of a minimum 30% of their customers within 50 meters of accuracy and 80% of their customers within 300 meters of accuracy. In the second year, telcos were mandated to further enhance this facility to ensure that 50% of the customers can be tracked within 50 meters of accuracy and 95% within 300 meters Mobile phone companies have, however, not implemented the government order citing capital expenditure. (emphasis mine)
Michael Sandel wouldn't approve
[youtube]http://www.youtube.com/watch?v=0O2Rq4HJBxw[/youtube]
HCL Tech splits hair
In an interview with Business Line, Prithvi Shergill, HCL Tech HR head argues that the company did not give "offer letters", only "letters of intent", to freshers. About 5000 fresh graduates across the country who were given to understand that they have a job offer from HCL Tech have been protesting since last month because they were not given joining dates. As to when they would join depends on the demand, and the picture is still hazy there. It's not just for HCL Tech, but across the sector. Most companies simply reduced the hires from campuses in line with what they could foresee as demand. HCL Tech didn't.
Interestingly, Shergill told BL: "We have always maintained that we will hire as per business demand that we foresee."
If only they had.
Francisco D'Souza in Top 10 in Glassdoor's highly rated CEOs list

Glassdoor, a social community and career website, is increasingly becoming popular among those trying to get an inside glimpse of a company. The website lets users anonymously post information on salaries, interviews etc. It also lets the employees rate their CEO. Francisco is rated a few notches above Google's Larry Page and Apple's Tim Cook. N Chandrasekaran of TCS and Krishnakumar of Mindtree, and TK Kurien of Wipro are three others who have made it to top 50.
Here's the top 10 based on the approval rating.
Check out the complete list here.
McKinsey on Internet in India
India can transform its Internet profile, expand usage, and boost GDP, argues McKinsey. Here's a graph from its report
On a related note, Eric Schmidt makes a case for open internet in a ToI op-ed
India accepts that investing in the internet is as crucial as investing in roads or telephone lines. The bigger question is, which internet will it invest in, an open or closed one? If people in power are overly pessimistic about the internet, their pessimism will be self-fulfilling. In seeking to control all of it - including the good parts that are working well - they'll stop good Indians from doing great things. Instead, they should focus on giving every Indian the best shot at using the internet to make his or her country even better.
More
Also of interest