India's Top 15 BPOs
Nasscom released some interesting numbers on Indian BPO sector yesterday. The sector has over 500 companies, employs 8.76 lakh people, and earned $16 billion in revenues 2011-12. Some companies in the second list don't feature in the first because they don't disclose BPO revenues.
Top 15: by revenues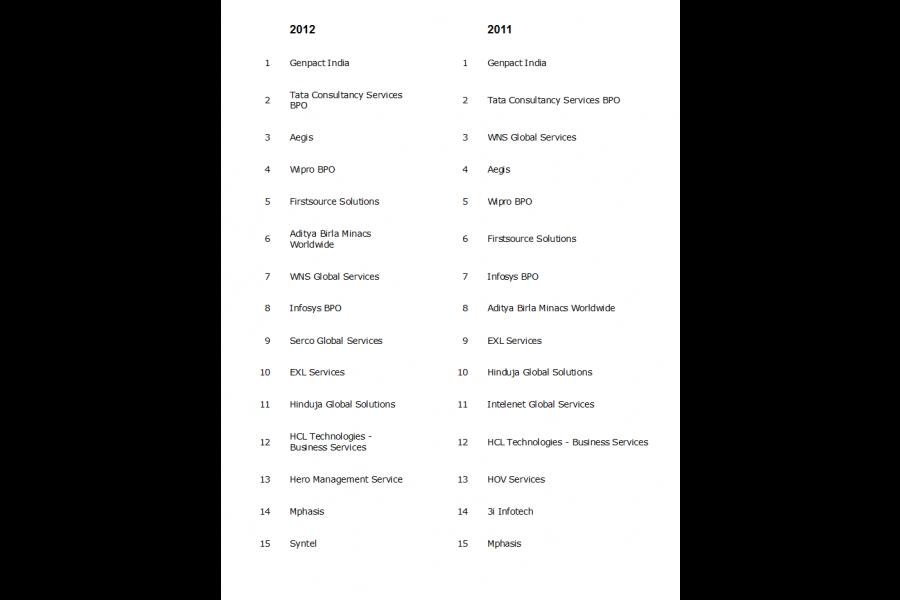 Top 15: by employees
More rankings by Nasscom: here
Big Data revenues: $1 billion by 2015
IT Services and Analytics companies get about $ 200 million in revenues from Big Data, a term used to indicate analysis of large, complex and growing data bases. According to a report by Crisil and Nasscom, it's expected to grow to $1 billion by 2015. "The opportunity for Indian service providers lies in offering services around Big Data implementation and analytics for global multinationals," said in a press statement.
However, the big constraint will be the availability of manpower. A few months ago Ms Kudva wrote in Economic Times: "MBAs, software engineers and statisticians are individuals with differing skill sets, but, big data analytics requires an individual to combine the capabilities of a statistician , a software engineer and an MBA — the pool of individuals who combine such complementary skill sets is insignificant when compared to the needs of the industry."
How to pass on your digital assets to your children
Bruce Willis offered some entertainment off the screen with news about his suing Apple for not letting him bequeath his iTunes collection to his children. Later, it emerged he won't. It won't stand in the courts of law, because as per contract we don't buy music from Apple or books from Amazon, we only borrow them. GigaOm shares three ways to deal with it.
A) Create a legal trust
B) Burn them on a CD
C) Pass on the password
Also of interest:
More senior executives leave Infosys BPO: ET
RIM applies for patent on tablet with concealable keyboard, keeps your QWERTY love a secret: Engadget
The "Eureka" Moment Arrives Later: AllThingsD
U.S. Spent $21B to Fight Global Cybercrime Last Year: PCMag
Sorry, Usain — This Robot Can Now Run Faster Than You: Mashable
Nokia's Visionary Wants to Out-Design Apple: Wired
Ballmer: In a Year, 400 Million Devices Will Be Running the Latest Windows OS : AllThingsD