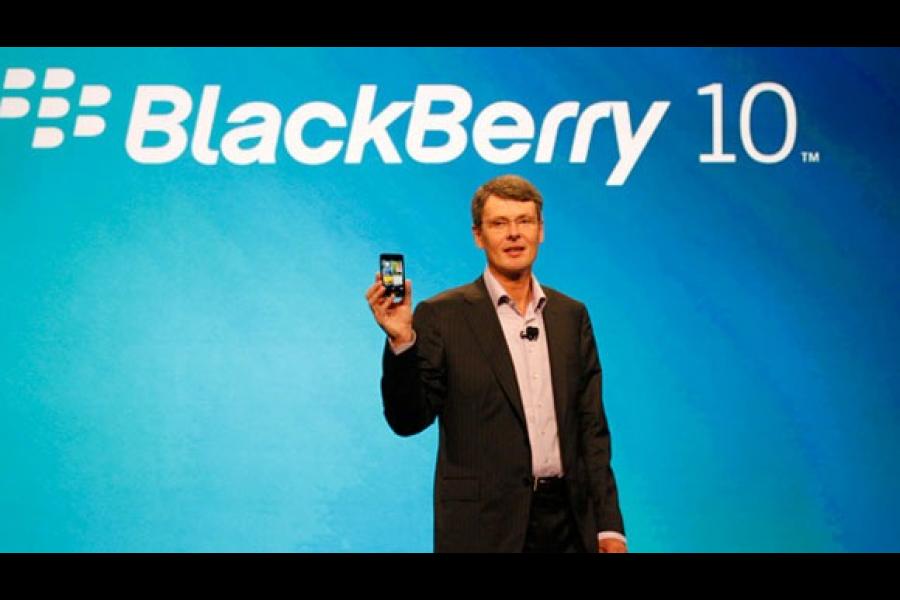 RIM has, for the longest time, ruled the roost so far as corporate cellphones went. The BlackBerry phone carved a niche for itself as the communication weapon of choice owing to its great messaging and email service and secure enterprise platform. RIM then noticed how demographics increasingly moved toward younger consumers, and began tailoring devices for the 20- and 30-something young working professionals. Through it all, their single most compelling offering was their BBM service. Users swore by it: it was the de-facto form of messaging among the BlackBerry boys and girls.
But the last few years have well indicated how fleeting a mobile user's attention span can be. Yesterday Foursquare, today Pintrest, tomorrow...? In the face of this incredibly fast-changing landscape, RIM appears to have been the follower of trends--while Apple and Google (and recently Microsoft) have placed themselves firmly up front and center with devices that offer fluid user interfaces, rich application ecosystems, and powerful communication and entertainment features, RIM has doggedly clung to their long-standing belief in messaging, while completely missing the bandwagon on these other key fronts that matter to today's consumers. So the question is, will their recently unveiled BlackBerry 10 phone platform change things for them?
At their annual BlackBerry World conference in Orlando earlier this week, RIM CEO Thorsten Heins spent a good 40 minutes deep diving into this new operating system using an Alpha version of a device that will be made available to developers. Let's look at a few capabilities of the new BlackBerry 10 platform:
- The focus is now on touch--in what is perhaps the biggest departure from the traditional BlackBerry experience, the new operating system is built on a touch interface (although they will continue to produce traditional QWERTY phones as well.) The operating system is built on a software foundation called the QNX framework, similar to what their PlayBook runs. RIM has clearly gone back to the drawing board and developed this OS ground up--so much so that only a few of the older BlackBerry apps will run on this new platform. The challenge is therefore greater, given that developers will need to re-code older apps or build new ones for the platform from scratch.
- It is all about the 'flow'--the new interface presents information by sliding it in and out of the edges of the phone. The email application, for example, is portrayed in a pane that cascades into other panes containing individual messages and mail attachments. The interface is surprisingly reminiscent of Microsoft's tiled interface in Windows Phone 7.5.
- Compared to traditional on-screen keyboards, they have made significant improvements to regular text prediction, and subsequently to typing speed. Suggested words hover above the letter you're at; swipe upwards to use that word. You'll see this in the video below.
- The camera has a nifty feature enabling users to quickly edit a photo based on images the phone grabs just before or after you actually capture the photo. Tap anywhere on the screen and you'll see a timeline tool--slide your finger across it to select the moment immediately before or after the shot so you could select the exact instant your subject splashes into a pool, for example.
- Individual applications can now check battery status and take corrective action like dim the screen or alert a user that the program they're about to launch might result in data loss.
All of this looks very compelling, and in line with what consumers today expect of a smartphone--intuitive, real-time and capable. The device they demonstrated Blackberry 10 on had a 4.2 inch screen with a resolution of 1280x768. This gives it a pixel density of 355 pixels per inch, which interestingly makes it sharper than the much-touted 326 ppi crispness of the iPhone 4S. It also had two microphones for better voice quality, Bluetooth, Wi-Fi and a MicroSIM slot. No details were released on the processor speed and other specifics of the display, but going by what was presented the next generation of BlackBerry smartphones should have specifications comparable to the best of their competitor's devices. However in the smartphone world, it is not just about brute hardware. Users expect the entire ecosystem to provide a great holistic offering--easy availability of great applications, seamless connectivity to online services, and of course an intuitive and fun user experience. RIM currently has around 15,000 apps for its PlayBook tablet and 70,000 apps for its smartphones or the tablet, compared with 200,000 iPad apps, and half a million for the iPhone. With similarly skewed numbers against Android, the biggest challenge facing RIM will be instilling developer confidence in the capability and longevity of this new platform. Among their offerings is an enhanced software toolkit that is designed to simplify the task for app developers and content products to create apps that are rich in graphics, with the ability to add engaging user interface effects using drag and drop simplicity. They've already announced the forthcoming availability of applications like Endomondo (a popular fitness app,) PixelMags (a mobile magazine newsstand,) Poynt (a local search engine,) and gaming titles from big players like Gameloft.
BlackBerry 10 represents a new chapter for RIM, and one they'll need to seriously work at to emerge successfully. A recent survey from Appcelerator and IDC indicated less than 16 percent of developers were "very interested" in building applications for RIM, compared to 90 percent for Apple and 80 percent for Android. That's a mountain of a change in perception needed, and given that there are fantastic mobile devices and services already available, it will be difficult swinging users from their current camp. But the constant plummeting of hardware prices and the ability of social networks to quickly proliferate 'what's in' gives RIM has as much of a chance as anyone else to rise out of the ashes and deliver on what they've promised.
The BlackBerry World 2012 Keynote General Session (skip to 21:18 for Vivek Bhardwaj, Head Of Software Portfolio RIM, demonstrating the meat of the new platform.)
[youtube]http://www.youtube.com/watch?v=OfHLjlogDS8[/youtube]