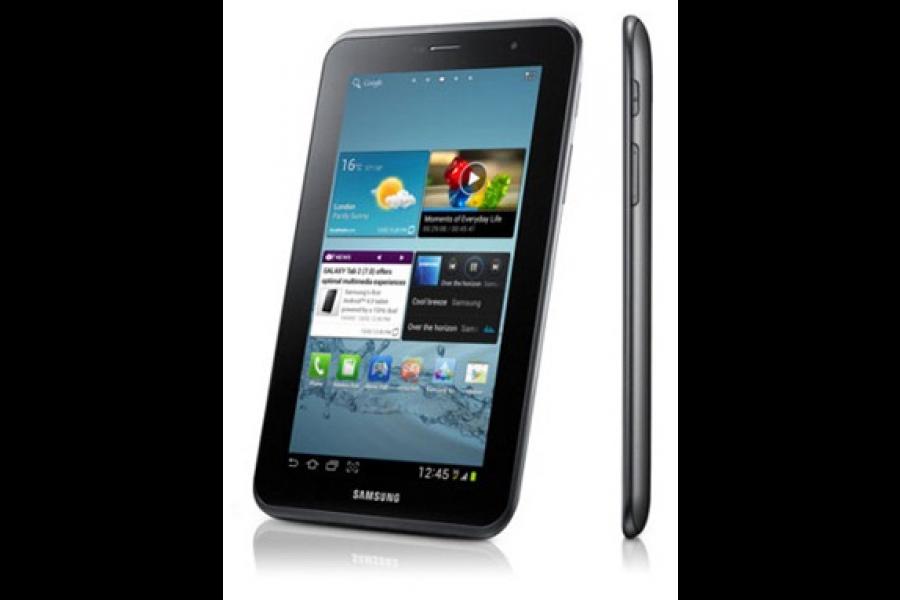 So far as the form factor goes, I personally believe that 7-inch tablets hit a very sweet spot. They are based on an innately familiar paperback novel size, are possible to hold in one hand, and are comfortably lighter than their 10-inch counterparts. Moreover, these tablets are as powerful and feature-packed as the larger devices--multi-core, plenty of RAM and storage, best-of-class graphics, a bunch of connectivity options; you don't necessarily need to sacrifice these sweet spots in many of today's 7-inch tablets. Case in point, the Galaxy Tab 2 GT-P3100.
This tablet is based on a crisp and especially bright LCD capacitive screen with a resolution of 1024 x 600 (which translates to a reasonably sharp 170 pixels per inch.) It is powered by a dual core 1 GHz processor and has a gigabyte of RAM. The unit I received ran Android's Ice Cream Sandwich operating system (version 4.0.4), and had 16 GB of built-in storage--this tablet is also available in 8 and 32 GB variants. Besides the integrated 802.11n Wi-Fi , this device accepts a GSM SIM card beneath a little retractable flap on the left edge, enabling GSM voice and 3G data connectivity.
The package contents are relatively Spartan--besides the tablet itself, there is a tiny quickstart booklet, a USB cable, power adapter, and snap-in plug for use with Indian power outlets. I would think bundled earphones and some sort of carry case would have been good additions, given that device comes in at the premium end of the 7-inch tablet price range.
The Samsung Galaxy Tab 2 imparts a very pleasing heft and feels solid in the hand, while the rounded edges and corners make for comfortable holding. It sports a dual black-front grey-rear color scheme--the screen has a thick black border while the back consists of a hard, matt grey plastic. Power and volume buttons are on the right edge, a standard headphone socket is on the top, SIM and MicroSD slots are on the left, and the bottom has the stereo speakers on either side along with the microphone and interface slot. The primary camera is 3.15 megapixels--sub-par by today's standards--while the front-facing camera is VGA, once again just about suited to basic videoconferencing. I found these tradeoffs in the camera subsystem quite surprising given the excellent specifications otherwise. Completing the surface features, the earphone and proximity sensor  are on the front top edge.
On powering on the device, the first thing I noticed was the especially bright screen--Samsung has always produced some of the best displays in portable devices, and this one is no exception. Android's Ice Cream Sandwich operating system is easy to get accustomed to, and I found the screen transitions and animations were smooth even during extensive and quick use. I installed and used a variety of entertainment and productivity applications including Aldiko Book Reader, the Chrome browser, Google Maps, Pulse News, Skype, and games like Frontline Commando, Angry Birds Space and others. Even with its relatively mid-speed 1 GHz dual core processor, overall response was extremely smooth: demanding 3D games like Frontline Commando played very well, videos and photos were vivid, and eBook text was crisp and bright. Switching between applications--even demanding ones--was a breeze, and I found no instances of lagging or stuttering in the interface. The stereo speakers were surprisingly loud and well-balanced and were not tinny sounding like most portable device speakers tend to be. However, I noticed that these speakers were on placed on either side of the shorter edge of the device--I found this strange, given that when used in applications where the stereo effect would be most needed--watching movies and videos in landscape mode and while playing games--the external speakers end up being on one side. It would make more sense them being on either end of the long edge so as to deliver better stereo imaging.
Battery life was quite decent: I had Wi-Fi on continuously and used the device for surfing the web, using Google Maps, viewing pictures, installing applications, reading news sites using Pulse reader and playing games--all of which was spread over 3 hours 10 minutes of usage time. Even though I had fully charged the device exactly 24 hours earlier, it had depleted to only 34 percent. So even with relatively intense usage, the device should easily last over a day on a full charge. Of course you could stretch this even further by using the device at a lower screen brightness and by turn off radios when not required. While reviewing the battery usage, I did however notice that an application called S Suggest--a pre-installed Samsung software that attempts to suggest apps the user might like based on what is trending and what is currently installed--consistently utilized about 10 percent of battery charge. And I found no way to uninstall this application. Another downside was on the video capture front--the device only records 720p video. This was surprising given that several other devices in this form factor--and even most smartphones today--comfortably handle 1080p recording. The last (albeit small) peeve I had was with the screen--it seemed to be entirely too susceptible to attracting fingerprints and swipe marks, and I found myself buffing it against my shirt regularly.
At Rs 19,499, this is certainly an expensive device. While there are a couple of capability shortcomings on the camera front, the device is well suited to running demanding applications while easily powering through a work day without needing a recharge. Competition in this lucrative 7-inch form factor space is most definitely heating up--with Google's formidable new Nexus 7 garnering positive reviews (at a significantly lower price point) and the iPad mini rumored to be unveiled in September, this will continue to be a buyer's market.