There has been a perceptible shift in the philosophy that defines the capability of today's laptops. You'll remember the time when a hefty laptop signified more power (and these were aptly called desktop replacements,) while the more lithe laptops were expected to provide only basic compute power but offer flaunt-worthy styling. These days, things are different--with the proliferation of mobile networks, consumers are increasingly getting accustomed to accessing their data from portable devices, while still demanding performance and capability. This expectation has led to the birth of a new breed of laptops that pack serious processing power, while managing a slim and light form factor. Numerous technologies are responsible for this streamlining, all of which converge within the frame of these new-generation notebooks to deliver on the many fronts that are important to mobile users.
Intel refers to this category of laptops as Ultrabooks, and you'll find several in the product ranges of several popular notebook brands. Over the last week I spent time with a Samsung NP530U4B Ultrabook that is based on a family of  Intel processor and platform technologies codenamed "Sandy Bridge". This platform embodies numerous capabilities for mobile systems such as support for multi-core processors, better decoding and encoding of video for smoother playback and recording and several other offerings aimed at extending the capability of mobile systems. This platform debuted in June 2011 and has over the past year been the mainstay of notebooks of this form factor.
Out of the box Unpacking this laptop, the first aspect one notices is the truly thin form factor--at under an inch thick (0.82") when closed, it feels more like lifting a sleek metallic plate than an electronic product. It weighs in at 1.79 Kg, which by Ultrabook standards is on the higher side, but to its credit this particular model includes several features that aren't generally found in other laptops of its class. It utilizes two exotic materials for the body construction, both of which lend ruggedness while keeping the device within the realm of chic--a brushed aluminum top and a fiber glass underside.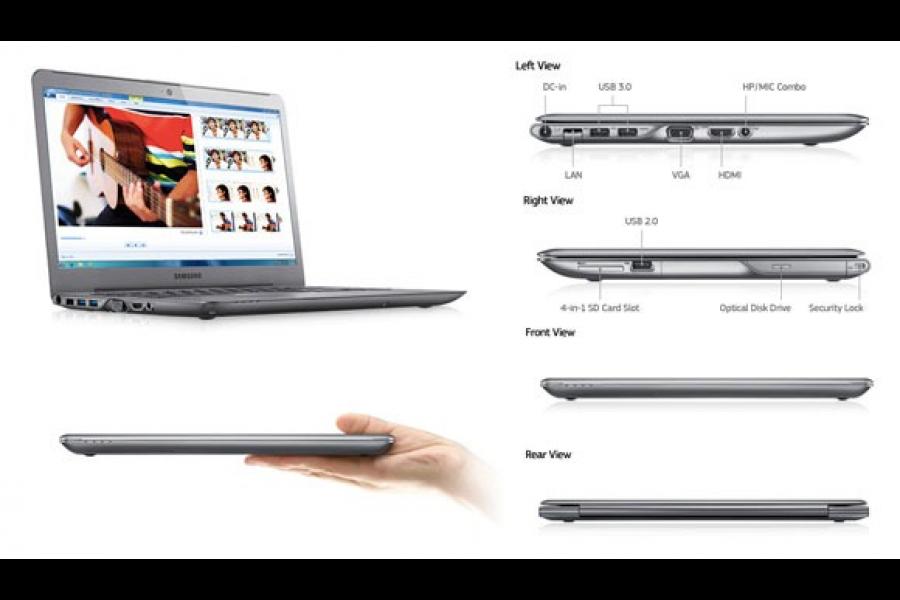 Under the hood
The Samsung NP530U4B was launched in March this year, and features a second generation Intel Core i5-2467M processor running at 1.6 GHz. This processor also has a built in 'Turbo Boost' feature that automatically ups the clock speed when the system is plugged in and running compute-intensive activities like 3D programs or image editing software, taking its speed up to 2.3 GHz when required. It has 6 GB of RAM, which marries well with the preinstalled 64-bit version of Windows Home Premium. The main storage comprises a roomy 1 terabyte SATA 2 hard disk spinning at 5,400 rpm that delivers plenty of data storage space, but at moderate data transfer speeds. The storage system also includes a 16 GB SanDisk SSD (Solid State Drive) that is part of Intel's Rapid Start technology, which enables the laptop to come out of hibernation quicker than traditional hard disk based systems. On the connectivity front, many of the system's wired and wireless components represent speed evolutions  over current-day standards. There are two USB 3.0 ports on the left edge (and a lone USB 2.0 port on the right side)--when connected to compatible devices, USB 3.0 proffers a theoretical transfer speed of 5 Gbps: over ten times the speed of current generation USB 2.0 devices. The laptop also has Bluetooth 3.0, which once again delivers higher transfer speeds between compatible devices: 24 Mbps over the 3 Mbps of Bluetooth 2.1. And there is 802.11n Wi-Fi, offering wireless networking transfer rates of up to 300 Mbps. Clearly, there is no dearth of wireless and wired bandwidth to this laptop. For applications that require especially decent graphics capabilities, the integrated AMD Radeon HD 7550M graphics chip delivers a fair amount of punch--I found that it more than adequately managed current-day games like Crysis 2 and Call of Duty 4: Modern Warfare running at the laptop's native screen resolution of 1366 x 768, albeit after disabling some of the more fancy graphics effects like antialiasing and trilinear filtering--settings that are used in many games and 3D graphics applications that make the scene look smoother and more realistic. This laptop also integrated a CD/DVD writer drive--a welcome inclusion in a notebook this slim--and a 1.3 megapixel webcam embedded into the top of the screen's frame. Topping off the specifications is a recessed Gigabit Ethernet port, a 4-in-1 SD card reader, and an HDMI port and VGA port for connecting to external video displays while making presentations or watching video content.
Usage observations
While using this laptop in a variety of scenarios, I noticed a few good and not-so-good aspects about its features and especially its construction. The sound system was particularly impressive--its stereo speakers are discreetly located beneath a grille above the keyboard, and put out surprisingly loud audio. Coupled with its SoundAlive 3D processing technology, it did manage to 'spacialize' sound fairly well without sounding gimmicky. When using the system primarily for general applications like surfing, social networking and working with office documents, the laptop delivered almost 6 hours of continuous compute time, making it capable of lasting an average work day before the battery depletes. However to do this I needed to modify the power settings so the display brightness was 10 percent and maximum processor speed was restricted to 66 percent while on battery. Of course, tweaking these settings more aggressively would garner better mileage. In the worst case battery use scenario, I threw in about an hour of playing a 3D game--arguably the biggest leech of notebook battery power--and the battery lasted just over 3 hours. So depending upon the usage scenario, battery life could be anywhere between three and six hours. Also, Samsung states this laptop's battery is rated for up to 1,500 charge cycles, which roughly translates to about three years without having to change the battery. The downsides I noticed started with the screen hinge that appeared particularly flimsy--it did not stay fixed when opening or adjusting the angle, but instead oscillated with the slightest movement--quite disconcerting when using the laptop. Also, the exhaust port for the system is at the bottom of the device and could be prone to blockage if used on a soft surface like a bed. Having this port on the side would be advantageous as it reduces the likelihood of the underside (and potentially your lap!) heating up during use.
Final thoughts
At its street price of Rs 52,000, this laptop represents a very capable device so far as ultra-portable computing power goes. It features high-end core specifications and offers speedy connectivity options in a thin and reasonably light package. Build quality of the moveable parts of the system could have been tighter (the DVD writer drive tray was noticeably flimsy as well,) and would go toward withstanding potentially rough use. But interestingly, there is a new mobile platform in the offing: Intel's next-generation processor platform (codenamed Ivy Bridge) is slated to debut next month and promises 50 percent less power consumption at the same performance level, while offering upto 15 percent and 50 percent better processor and graphics performance respectively. So the question is, why would you buy a laptop based on a platform generation that is about to go out of vogue in the next couple of months? I could think of two reasons: if you absolutely need an Ultrabook right now, or if you snag one at a great deal. But as is with technology iterations these days, there's always something better on the immediate horizon. And that, as we all know, is a never-ending story.