These days there seems to be a tablet for virtually every occasion--from devices like the uber-performance ASUS Transformer coming in at nearly half a lac to the glut of veritably no-name Taiwanese devices that can be yours for under 6,000 bucks. I'll say from experience that the very cheap devices are barely useable for even most tablet-related activities like watching movies or checking in to your favorite websites. And the higher end of the spectrum can broadly be classified as 'the iPads' and 'the rest of them'. But interesting to note is the recent proliferation of products in the mid-price Rs 8,000 to 15,000 range.
I recently got my hands on such a device--the Zync Z990. Launched on the 20th of March, this is purportedly India's first Android device that runs the latest version of Google's operating system--version 4.0 (popularly known as Ice Cream Sandwich.) After spending a week of quality time with it, I came away with mixed feelings.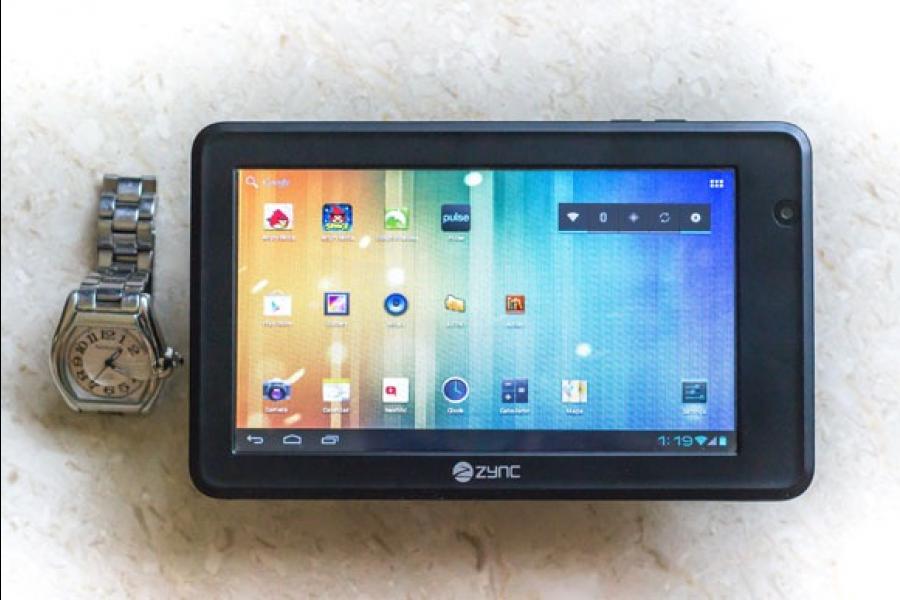 Let's start with the package contents. Besides the device there's a regular set of earphones, a snug lycra carry pouch, a standard USB cable, charger and screen guard. The device primarily comprises a plastic casing and the 7-inch capacitive touchscreen.
All ports are on the right edge, and have printed labels on the underside--useful for first-time users who might need guidance. There are three buttons--Power, Menu and Esc--on the upper right edge. I plugged it in, tapped the Power button and after the mandatory branding splash screen there was a not-so-brief 1-minute boot time before I reached the home screen. This home screen was largely empty, with just a barebones clock, and two icons for accessing Settings and Phone (not sure why this icon was included as this device does not have cell phone capabilities.) The manufacturer clearly chose to go with a stock operating system with no specific customization. So for a user new to Android, there's little visual guidance about what to do next--I expected the screen to at least be pre-configured with shortcuts to common applications. For those who are familiar with Android, navigation and configuration should be straightforward--I quickly populated the home screen with the stock applications I knew I'd be using--the Play Store, Settings, Gallery, Camera etc. In this avatar of the operating system, you access the application listing by touching the grid-like icon in the upper right corner. I dragged and dropped relevant application and widget shortcuts from here, and quickly set up the layout to my liking. Next up, I went to the Settings screen and quickly configured the device to connect to my wireless network. Access to device settings is very intuitive with the dual-panel scrolling layout--swipe through setup categories on the left, and touch a category to view and change its configuration on the right. With Internet connectivity established, I dived in.
The power and utility of a tablet primarily emerges when it is online, so during this review I cycled through a gamut of usage scenarios--downloading and using applications, streaming videos, reading news feeds, checking email, playing games and more. Some of the applications I used in this review included:
- Dolphin Browser HD: In my opinion one of the most powerful, speedy, and configurable mobile browsers available - Pulse News Reader: A fantastic news reader that renders stories and clickable tiles--very intuitive, and a great way to get up to speed with your favorite news sites
- Aldiko Book Reader: A Spartan and configurable eBook reader
- Astro File Manager: A useful application for managing files on an Android device and its SD card
General user experience
Two of the most important aspects of a tablet are its screen quality and user interface response. And here's an area I found this device falling short--when viewed head on, the 800x480 display was reasonably sharp but the colors appeared a tad washed out in high contrast areas. For example, small dark text on a bright background caused the text to appear blurry and grey. But more importantly, I saw significant degradation in brightness and color when viewed at oblique angles--both horizontally and especially vertically (see image above; Left: Viewing at a horizontal angle, Middle: Viewing head on, Right: Viewing at a vertical angle.) This was particularly noticeable with photos in portrait mode--it was apparent that each of my eyes was seeing differing hues in the same photo--for those that have experienced such a phenomenon, you'll know how unsettling this can be. With normal viewing in landscape mode, photos and videos appeared reasonably well. Especially with videos, the device rendered both standard definition and high definition (720p and 1080p) videos smoothly making it a very capable personal movie player.
Based on a capacitive touchscreen, the tablet is markedly more responsive than those using lower-quality resistive displays. I found overall device response pleasingly snappy--tapping and dragging icons, sliding between screens, and even more detailed activities like selecting smaller areas of the user interface was intuitive and easy. The user interface screen transitions and application startups were smooth, with only a few instances of stuttering in device response, such as the time I first launched the Gallery after copying several full-res images from a 14-megapixel camera. The device appeared to be pre-rendering these images the first time around--they loaded fast enough on subsequent runs. For reading eBooks I found the device more than sufficed--the text was clear and when viewed in night mode (white text on a black background,) and the sub-par viewing angle issue noticed earlier wasn't evident in this scenario.
I did notice a few glitches with the home screen: when viewing in portrait mode, icons at the left and right edge of the screen appeared to fall off the edge--clearly an interface layout issue, and one that makes it difficult to select these icons. The interface rendered correctly in landscape mode though. Also, after installing a new application a shortcut gets automatically created on the home screen, but it appears exactly behind the Google Search widget--so there's no way to select it and move it around! I found a workaround by swiveling the device into portrait mode, then grabbing the edge of the icon and moving it to a more accessible location on the screen. I also encountered an issue with the battery life indicator. After a full charge it didn't linearly decrease during use--it started off at 100% then abruptly displayed 80% after about 15 minutes of use. From there on it seemed to deplete predictably until about 15%, after which the device abruptly powered down! But I did clock about eight non-contiguous hours of playing games, watching videos, reading an eBook, browsing news feeds in Pulse, all with the screen brightness set to medium. These shortcomings aren't deal breakers, but certainly warrant addressing in subsequent releases.
Features and Applications
I downloaded and fired up Angry Birds--arguably one of the most practical (and undoubtedly entertaining) applications for determining the speed of a mobile device. You've probably already downloaded or seen their latest offering--Angry Birds Space. Powered by a 1.2GHz processor, the tablet ran this game smoothly and the speakers put out surprisingly loud sound, as was also the case when listening to MP3 songs. But I noticed the conspicuous absence of volume up/down buttons! This is a fairly big downside as there's no way to change volume of system sounds or running applications unless the feature is present in the application itself--and in most applications it isn't.
The device has a very mediocre front-facing VGA camera (captures 640x480 JPEG photos) that is useful for little else besides making goofy faces at the device, or perhaps for videoconferencing over Skype. Being front facing, there's no way you can use the camera to take photos of action happening in front of you. Also, Bluetooth and GPS are absent. On the upside, the device does have an HDMI output port for connecting the tablet to your TV and viewing content, a full-sized USB host port for accessing files on thumb drives by connecting it directly to the device, and a MicroSD card slot for adding more memory. Storage comprises 4GB of in-built memory of which 3GB is useable for your applications and data.
The verdict?
At Rs 8,990, there aren't many other tablets available that offer features and specifications similar to this one. It certainly isn't the most capable you can buy in this form factor, and there are niggling issues that dampen the experience. But it does deliver nicely on specific fronts like web surfing, casual mobile gaming, watching movies and reading news sites and eBooks. At present, the Zync Z990 delivers a compelling solution given its aggressive pricing, but being as this is such a lucrative price bracket in the already fast-paced segment of tablet computing it's interesting to see the kind of competition that kicks in. And expect to see much of it in the weeks and months ahead.