Jury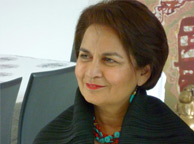 Lekha Poddar
Mrs Lekha Poddar lives in New Delhi , India.
Lekha Poddar, began collecting in the late 1970s and her son Anupam in 2000. Together they recently set up the Devi Art Foundation. They now have 7,000 works of Indian & International art, ranging from tribal to contemporary
Mrs. Lekha Poddar began collecting contemporary Indian art , with works by the Progressive Artists' Group and Bengal school amongst others who were active at the time. Around the year 2000, the collection added works by younger artists around the younger generation who represented, a new vision of India . Over the last ten years the family have been following experimental/cutting edge developments taking place across India. Slowly overcoming inhibitions in terms of subject matter/content and the question of space for proper display of installation and new media art, they have been expanding their collection purposefully. The artists strongly represented in the collection include Subodh Gupta, Mithu Sen, Bharti Kher, Anita Dube, Sudarshan Shetty and A. Balasubramanium.
The Poddar collection is the most significant, comprehensive and avant garde art collection in India, including Tirbal art .Even art from neighbouring countries in the sub-continent such as Pakistan, Sri Lanka, Bangladesh, Afghanistan, and Tibet have a growing presence in the collection.
Spread over two floors and 7,500 sq. ft in an office tower, the Devi Art Foundation, opened in 2008 , with an inaugural show of photography and video called Still Moving Image. It featured the works of 25 artists, from the Poddar collection. The birth of the Devi Art Foundation was turning point in the Indian art scene, a private family trove, open to the public which is devoted entirely to contemporary art
Mrs Lekha Poddar lives in New Delhi , India.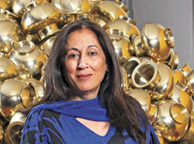 Kiran Nadar
Chairperson, Kiran Nadar Museum of Art; Trustee, Shiv Nadar Foundation
Kiran Nadar is a trustee of the Shiv Nadar Foundation and Chairperson, Kiran Nadar Museum of Art (www.KNMA.in). She is also an acclaimed international bridge player, a philanthropist and an avid art collector.She is a key driver behind demystifying art to the common man through the KNMA, a philanthropic initiative in art. She has been acknowledged as a 'hero of philanthropy' by Forbes Asia Magazine in 2010 for launching India's first philanthropic private museum.
Kiran is a Trustee of the Shiv Nadar Foundation, which among its transformational educational initiatives has established the SSN College of Engineering in Chennai, today among the top private engineering colleges in India, Shiv Nadar University, VidyaGyan schools, Shiv Nadar School and the Kiran Nadar Museum of Art. Drawing from her diverse and rich experience in advertising and communications, Kiran plays a very important role in defining the architecture and the aesthetics of the Foundation's initiatives.
Kiran is also member of the Rasaja Foundation, an educational, scientific and cultural institution created in 1984 by the late Jaya Appasamy, a renowned artist, art historian and art critic. As a representative of the Foundation, she has also been involved in a joint initiative with the Rajiv Gandhi Foundation to promote the education of the Dalit and Muslim girl child in some of the most backward districts in the State of Uttar Pradesh She is one of the top Indian players of competitive bridge as a member of the "Formidables" team, and has not only won many laurels at the National level but has also represented India several times in international competitive bridge events.
Kiran lives in Delhi, India with her husband Shiv Nadar, Founder, HCL and Chairman, Shiv Nadar Foundation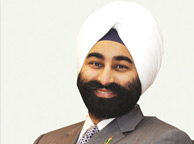 Shivinder Mohan Singh
Singh is a passionate art collector based in New Delhi
Shivinder Mohan Singh is an entrepreneur who aspires to change the way Healthcare is delivered in the world. He is the Managing Director of Fortis Healthcare Limited, a leading, integrated healthcare delivery provider in the Pan Asia-Pacific region. Fortis' healthcare verticals span primary healthcare, speciality day care, diagnostics and hospitals, with an asset base in 10 countries, many of which represent the fastest-growing healthcare delivery markets in the world. Singh is also one of the principal promoters of Religare Enterprises Limited, Super Religare Laboratories Limited and Religare Technologies Limited. He was one of the key promoters of global pharma major Ranbaxy Laboratories and a director on its board; playing a strategic role in its sale and in taking the company to the next level, while creating significant long-term value for all stakeholders.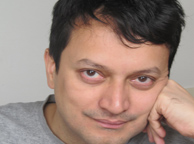 Ranjit Hoskote
Ranjit lives & works in Mumbai , India.
Ranjit Hoskote is a poet, cultural theorist and curator. His collections of poetry include Vanishing Acts: New & Selected Poems 1985-2005 and Die Ankunft der Vogel. His poems have appeared in Akzente, Boulevard Magenta, Fulcrum, Green Integer Review, Iowa Review, Nthposition and Wespennest; he is co-author of Confluences: Forgotten Histories from East and West. Hoskote was a Fellow of the International Writing Program, University of Iowa, writer-in-residence at Villa Waldberta, Munich, and research scholar in residence at BAK/ basis voor actuele kunst, Utrecht. Hoskote, who curated the India Pavilion at the 53rd Venice Biennale (2011), is co-curator, with Nancy Adajania, of the current NGMA Mumbai exhibit 'No Parsi is an Island'