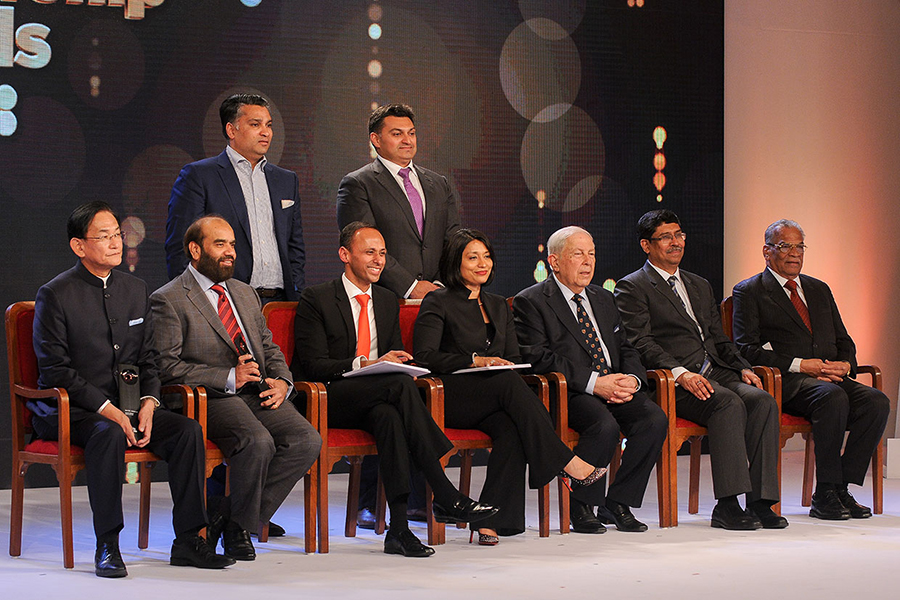 It was an affair to remember. The evening of September 30, 2015, saw the winners of the Forbes India Leadership Awards (FILA) 2015 being felicitated at a sparkling event at the Grand Hyatt hotel in Mumbai.
The créme-de-la-créme of India Inc stepped out of their corporate boardrooms and offices in the evening to raise a toast to the ten award winners. The awardees were men and women who have transformed their respective organisations through their vision, determination and leadership par excellence. Awards were also given to companies that stand head and shoulder above others in terms of their approach to business and the value they have created for their stakeholders.
The evening began with the guests — award winners, jury members, corporate chieftains, top lawyers and heads of consulting firms and their families — catching up informally at the Forbes India Leadership Lounge and exchanging pleasantries. Some couldn't resist taking a closer look at the new, soon-to-be-launched BMW 7-series sedan that was previewed at FILA 2015.
As the evening progressed, the FILA winners were called on stage to accept their awards. The winners were asked one question each, answers to which threw light on various aspects of their individual leadership styles and what made them and their companies successful. Also, interspersed with the awards were some thought-provoking dialogues, deliberations and discussion that made the evening an even more enriching experience.
While Noshir Kaka, MD, McKinsey India, chose to speak on how technology was likely to boost the Indian economy in the coming days, Samit Ghosh, MD and CEO of Ujjivan Financial Services Pvt Ltd, offered insights into how a microfinance institution may successfully transition to becoming a small finance bank. Ajay Shah, one of the architects of the Indian Financial Code, outlined the changes needed in the laws governing the Indian financial system.
Top legal eagle Cyril Shroff, managing partner of law firm Cyril Amarchand Mangaldas, faced off with Manish Sabharwal, chairman of TeamLease Services, to debate on whether India needs big-bang reforms or smaller and easier-to-implement incremental reforms. Sabharwal argued in favour of incremental reforms while Shroff opposed him.The intellectually stimulating discourse on offer made dinner even more enjoyable for the guests.
After the final set of awards were presented, Uday Kotak, executive vice chairman and managing director of Kotak Mahindra Bank, joined State Bank of India's chairman Arnudhati Bhattacharya and CNBC TV18's Menaka Doshi for an informal chat on all things banking.
Kotak, who is also Forbes India's Entrepreneur for the Year, unveiled a special issue of the Forbes India magazine, which chronicles the journey of the FILA winners and through their stories, extrapolates and presents real-life lessons in leadership.
American author John C Maxwell said about leadership: "A leader is one who knows the way, goes the way and shows the way."
FILA 2015 was made even more special as this "way" has been fraught with imposing challenges in the past, which these leaders and their organisations have conquered.
As the Indian economy looks forward to better days ahead, we at Forbes India will be looking out for a new set of leaders, a new set of agents of economic change to honour at FILA 2016.