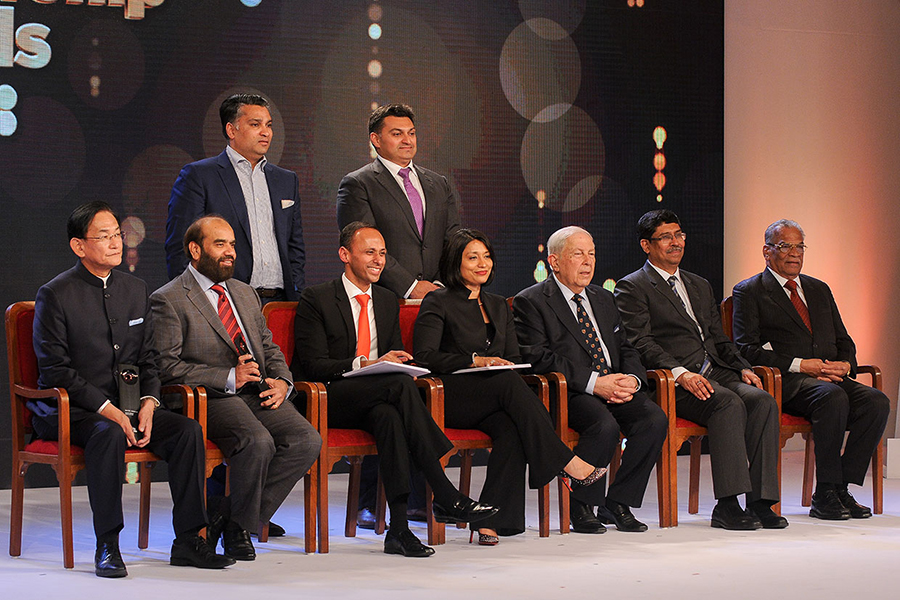 Corporate India's iconic and most respected business leaders gathered at the sixth gathered at the sixth Forbes India Leadership Awards (FILA) 2016 on Tuesday evening, giving the audience a glimpse of what they have been doing for each day of the week, month on month, years and decades
The winners and nominees of all of FILA's nine categories have been doing the simple and tough things right: striving for excellence, constantly innovating, listening to what clients need, keeping the rules of acquisition simple, sometimes battling global monopolies and staying humble in the process. In the process they have successfully emerged as transformational leaders of India Inc.
It called for a celebration. The glittering ceremony held at The Trident, Nariman Point, Mumbai, acknowledged the contributions of chief executives, entrepreneurs and business leaders. What united them is their passion and perseverance.
The awards kicked off with recognizing the contribution of India's young leaders; first Vijay Shekhar Sharma, founder of Paytm, who won the Outstanding Startup for the year award. Paytm which started as a basic mobile wallet to simplify payments is today India's largest mobile commerce platform and valued at $4.8 billion. The next winners were Pranav and Shaunak Amin, both joint managing directors of Alembic Pharmaceuticals, who had taken their family-owned legacy business of active pharmaceutical ingredients (API) and transformed it into a domestic and international generic formulations play.
One of the highlights of the evening was an Oxford style debate between two FILA 2016 jury members Sanjay Nayar, CEO of KKR India who faced off against noted corporate lawyer Zia Mody of AZB & Partners, on a sensitive subject of who was responsible for the problem of rising bad loans and stressed assets in the system.
Nayar was direct in his argument that banks, and not corporates, were responsible for the NPA mess, calling them "stupid" as they were aware of the risks and said they were "pathetic" in reacting to the problem and also resolving it. Mody argued against this, saying corporates were "overoptimistic" and "overleveraged". She quizzed whether India's corporates were always responsible in their actions or took on more than what they could chew and allowing the system to give us them money than they should have had.
The debate which started with a 67 to 33 percent debate blaming banks, saw Mody pull back some lost ground, but she lost the debate 48 to 52 percent.
Prasoon Joshi who wears multiple hats of a poet, a lyricist, a scriptwriter and an ad man, in a free-wheeling chat said that though the e-commerce world was warming up to digital (advertising), the primary emotional motivations do not change.
Sutirtha Bhattacharya, chairman and MD of Coal India, won the best CEO for a public sector firm. He has been instrumental in turning around the fortunes of the world's largest coal producer by streamlining processes and adopting technologies. Ramesh Iyer, managing director of Mahindra Finance, who won the Conscious Capitalist for the year award, highlighted a key winner for them. "It is not important to do what the customer wants, customer centricity is to do what the customer tells you they want and at whatever time."
Equity markets stalwart Raamdeo Agrawal, joint managing director of Motilal Oswal Financial Services Ltd, gave an insight into where India's still expanding economy could grow into in the coming decade. India entered the trillion dollar economy in 2007-08 after 60 years of independence, China about 10 years earlier in 1997-98. "And henceforth, every successive trillion dollar growth will take fewer years irrespective of the political situation" he said at the event. Agrawal expects India to be a $4 trillion economy by the year 2024.
Entrepreneur Rohan Murty, who is a junior fellow at the Harvard Society of Fellows and the son of Infosys co-founder Narayana Murthy, also enlightened the audience with his take on innovation in the information technology space. In a power-point presentation, Rohan argued that the software industry has not innovated enough over the past nearly 100 years. He forecast that in the future, there would be machines which will be adaptable but have good capability of doing repetitive and deterministic tasks quite well.
"The coming change is one where software will eat software", Murty said.
The two most prestigious awards of the event went to pharmaceutical personalities: Y K Hamied, who won the 'Lifetime Achievement Award' for his pioneering work at Cipla, which produced generic drugs at affordable prices across the globe. Hamied stressed that India and its government will need to decide its own future. "The overall achievements of the industry, company or an individual cannot be judged by monetary gains but only by the capacity and capability to contribute to their moral and social obligations to society."
Winners of the FILA 'Entrepreneur for the Year' award were Vinita Gupta and her brother Nilesh Gupta of Lupin. This pharma giant has grown rapidly through nearly 15 acquisitions over the past eight years, either to gain access to new markets or technologies. The Guptas' secret sauce to success has been to preserve "the something" in the organization they were buying out and bringing in Lupin's best practices. "We also simply let the teams be" and grow, summed up Nilesh Gupta. The event closed with a fireside chat by CNBC TV18's Latha Venkatesh with Y K Hamied and the Guptas, where more was revealed. Hamied said that Indian pharma companies will need to change the goal posts as per the US pharma regulator guidelines, when seeking to enter their market. "[The US FDA] is fair….you have to follow the standards in the country you operate in," said Hamied.