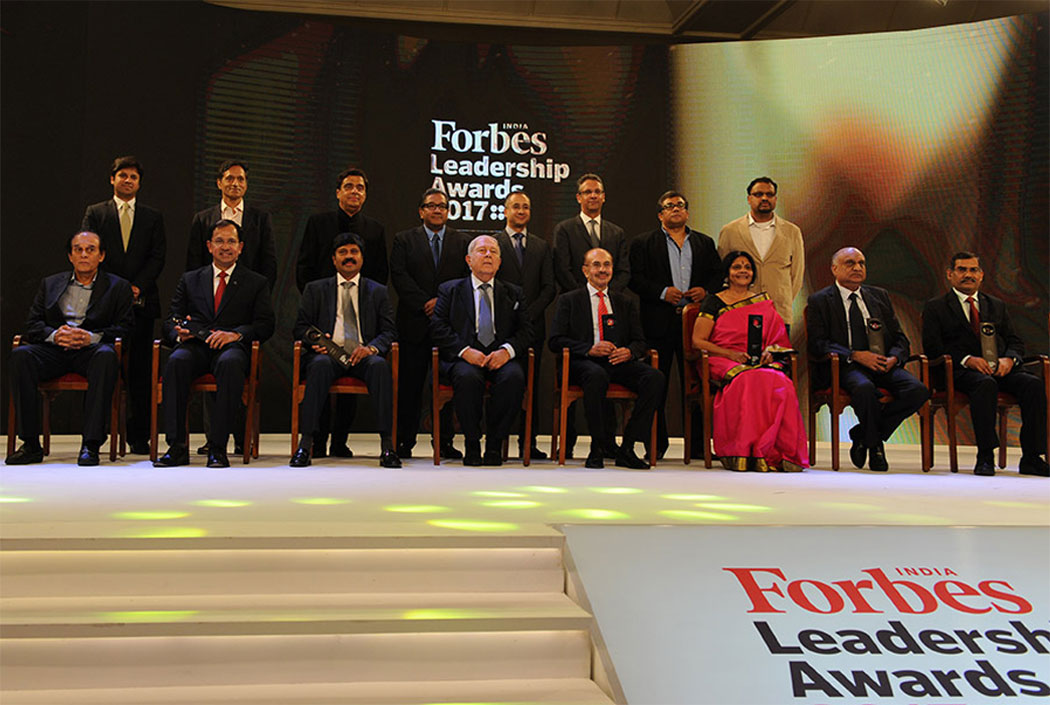 Corporate India's iconic and most respected business leaders gathered at the seventh Forbes India Leadership Awards (FILA) 2017 on Tuesday evening, captivating the audience with glimpses into their inspirational personal and corporate journeys.
The winners and nominees of all of FILA's ten categories have not just achieved success the right way but also inspired others along the way, in a period which most would call tumultuous, as businesses deal with the twin mega-reforms of demonetisation of high currency notes and the introduction of the Goods and Services Tax (GST).
The glittering ceremony held at The Trident, Nariman Point, Mumbai, acknowledged the contributions of chief executives, entrepreneurs and business leaders. What typified them was the ability to ride through the rough patches, be open to embrace newer technologies and have the ability to consistently take risks.
The awards kicked off with 'Outstanding Startup' which was won by ReNew Power Ventures and accepted by its founder, chairman and CEO Sumant Sinha. ReNew Power has stood out in the world of startups, being the first company in India to cross the threshold of 1,000 megawatts of installed green power capacity, last year. The company has another 1,000 MW of wind and solar power capacity under development.
The next winner was Zoho Corp, for being the 'Conscious Capitalist' for the year. Sridhar Vembu, Zoho's founder spoke about their strategy for success which revolved around finding the right customer and being in the right location where one's services could be best utilitsed.
Ronnie Screwvala, co-founder and chairman of UpGrad, chronicled his journey as an entrepreneur from his early days, starting off as a cable TV operator in the early 1980s to founding the UTV Group in the 1990s. From his anecdotal-filled speech, Screwvala had a few clear messages for young entrepreneurs: Exits [from start-ups] cannot be timed or planned; that there was also a dearth of role models for the businesses which are being planned for and that investors will need to be clear about decisions relating to equity dilution. He added that in the entrepreneurial space, India is still not in the disruptive, innovative stage and entrepreneurs still suffered from following a herd mentality.
A highlight of the evening was a presentation by startup Fluid AI, whose enterprising co-founder Abhinav Aggarwal, enthralled the audience with the use of artificial technology to interact with Warren Buffet on the cover of Forbes's special centennial issue (Sept 19, 2017) where the readers could ask Buffet a question and he would answer questions about business, finance or his personal journey, from "What's your favorite investment" to "What do you think of [US President] Donald Trump?" Forbes US had partnered with Fluid AI to develop this platform.
Microsoft India's president Anant Maheshwari spoke about the social impact of innovation in the fields of education, agriculture and healthcare.
Abhaya Prasad Hota, the former managing director and CEO of National Payments Corporation of India (NPCI) won the best CEO for a public sector firm. He has been instrumental in transforming India's economy to move from a prominently cash economy to a less-cash and digital one. Hota, while receiving the award said that "a lot more work was required to be done" before India moves to a digital economy.
Suresh Narayanan, chairman and managing director of Nestle India won the award for the best CEO for a multinational. Indra Kumar, managing director of Avanti Feeds won the award for best value creator while Varun Berry, CEO of Britannia Ltd, won the award for best private sector CEO.
Another key highlight was a discussion with stalwarts from the FMCG industry – including Godrej Group chairman Adi Godrej, Harsh Mariwala, chairman of Marico and Suresh Narayanan, chairman and MD of Nestle India. They discussed the impact of GST on business, the emergence of ecommerce and a shift in preference toward natural products at FILA 2017. "GST is good for the industry. It will ensure more adherence to tax payment and evasion will come down," said Godrej, whose flagship company is Godrej Consumer Products. "Lowering of the tax rate will boost growth in the FMCG sector, which is underpenetrated in India," he added.
One of the other sessions at the awards ceremony was a presentation by Indian bureaucrat Aman Singh, principal secretary to Raman Singh, the chief minister of Chhattisgarh state, who spoke about how states can act as catalysts to support entrepreneurs and improve the ease of doing business in India.
Chetna Sinha, founder of the Mann Deshi Mahila Sahakari Bank, won the award for the best entrepreneur with a social impact, which offers loans and other financial instruments to up to 25,000 women each year.
One of the most prestigious awards of the evening was the Lifetime Achievement Award to business icon Adi Godrej, head of the family that controls the 116-year old Godrej Group. Receiving a standing ovation, Godrej said that he "still looked forward to Monday mornings." He said he felt that India's economy was in a great position to do well over the next decade.
Winner of the FILA 'Entrepreneur for the Year' award was Hari Mohan Bangur, the managing director of Shree Cement. Bangur has been instrumental in steering the company towards rapid growth [its stock price has risen at a CAGR of 28 percent in the last 10 years, with its market cap of ₹63,000 crore], expanded product capacity and never diluted its equity since Bangur took charge.
The event closed with an onstage chat between CNBC TV18's executive editor Latha Venkatesh with Bangur. Bangur said that the company planned for acquisitions outside India, to improve returns on capital. Commenting on the reason for the success of the family, Bangur said, "In our philosophy, Lakshmi is chanchala, sometimes it will stay, go away and again it will come back with the better value system".
In Picture: (Standing - Left to Right) Anant Goenka, CEO, CEAT Tyres - winner of FILA 2017 GenNext Entrepreneur; Ranu Vohra, co-founder, Avendus Capital; UpGrad co-founder and chairman, Ronnie Screwvala, FILA 2017 jury member; Forbes India Editor Sourav Majumdar; Avinash Kaul, Managing Director, A+E Networks | TV18 and President - Strategy, Product & Alliances - Network18; Vikram Pawha, President, BMW; Joy Chakraborthy, CEO – Forbes India & President – Revenue, Network18; and Manish Maheshwari, CEO, Network18 Digital.
(Sitting - Left to Right) Harsh Mariwala, chairman, Marico Ltd - FILA 2017 jury chair; Suresh Narayanan, chairman and MD, Nestle India - winner FILA 2017 Best CEO - Multinational; Indra Kumar, MD, Avanti Feeds - winner FILA 2017 Value Creator; Y K Hamied, chairman, Cipla Ltd; Adi Godrej, chairman, Godrej Group - winner FILA 2017 Lifetime Achievement award; Chetna Sinha, Founder, Mann Deshi Mahila Sahakari Bank - winner of FILA 2017 Entrepreneur with Social Impact; Hari Mohan Bangur, managing director, Shree Cement - winner of FILA 2017 Entrepreneur of the Year; Abhaya Prasad Hota, former managing director & CEO, National Payments Corporation of India - winner of FILA 2017 Best CEO - Public sector.